Rapidly Deployable Shelters for Any Military Operation
September 20, 2021

Category:

Alaska Defense Applications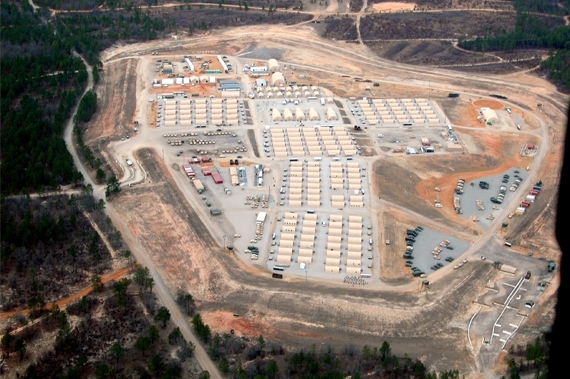 Alaska Defense™ (Alaska) manufactures the most popular and widely used military shelter systems for the United States Armed Forces, Coalition Forces, and international militaries and governments.
Since opening our doors in 1975, Alaska Defense has delivered over 65,000 fabric shelter systems and 21,000 Environmental Control Units™ (ECUs) to more than 85 countries.
Whether your military operation is needing rapidly deployable shelter systems to support expeditionary deployments or military tents for mid- to long-term strategies, Alaska Defense offers a large selection of military shelter and camp systems to meet your specific operational needs.
Expeditionary Shelter Systems
For expeditionary requirements, Alaska Defense provides the Alaska XP Shelter System. This rapidly deployable shelter system is capable of deployments in as little as 10 minutes and is available in 12', 14', 16', and 20' widths.
The Alaska Xterra® is a trailer-based transportation system designed to deploy a fully equipped AlaskaXP® Shelter System to advance ground forces to remote locations, especially on secondary or ill-maintained roads. The Alaska Xterra® trailer system contains a generator, fuel tank, and Alaska ECU® (environmental control unit) to provide power and environmental controls, protecting troops and sensitive equipment from harsh weather conditions.
The Alaska High Altitude Shelter System™ supports combat missions in altitudes of 11,500' or higher and features a refined ability to withstand extremely cold temperatures, high winds and heavy snows, thin air, and prolonged exposure to high solar/UV loads.
Military Base Camps
Alaska Defense's military base camps provide a turnkey solution for quickly establishing or building up a force projection. Our rapidly deployable shelters are designed to fulfill the operational requirements of a Forward Operating Site (FOS), a Forward Operating Location (FOL), or a Forward Operating Base (FOB) and support sustained military operations.
Alaska military shelters are used for billeting, shower and latrine facilities, laundry systems, field kitchens, and Dining Facilities (DFAC).
Military Medical Facilities and Military Field Hospitals
The Alaska Medical Shelter System™ is the Department of Defense's most tested commercially available (commercial off-the-shelf – COTS) medical structure available. Our rapidly deployable military medical facilities, including the expeditionary XP® Medical Shelter, can be complexed and quickly scaled to create military field hospitals. Our combat health support (CHS) systems are used to support three of the five echelon medical care levels (Level II to Level IV field hospitals).
Equipped with Negative Pressure Isolation Systems (NPIS), our medical shelters are able to quickly respond to emerging medical emergencies and large-scale disasters requiring patient isolation, containment, and treatment facilities… when and where needed™.
[Related: U.S. AFRICOM Provides Field Hospitals to African Nations, Aiding in COVID-19 Treatment Efforts]
Tactical Operations Centers (TOC)
Alaska Defense provides tactical operations centers to support Command and Control (C2) and Situational Awareness (SA) functions. Alaska Tactical Operations Centers are quick to deploy and can be rapidly scaled to support strategic and planning operations for company, battalion, brigade, or division task forces.
Large Area Maintenance Shelters (LAMS)
Forward military operations requiring large area maintenance shelters for vehicles (LAMS-VM) and aircraft (LAMS-AM) will find military shelter systems from Alaska Defense capable of meeting any operational requirement.
The Alaska Medium Shelter System™ is a combat-proven multipurpose shelter capable of meeting many operational requirements. At 30' wide, the Alaska Medium Shelter System is able to accommodate small combat or surveillance drones to create Unmanned Aerial Vehicles (UAV) or Tactical Unmanned Aerial Vehicles (TUAV) hangars and ground control stations.
For larger applications, the AK40 Shelter System™ is 40' wide and can be equipped with a vehicle exhaust system to safely store, repair, and operate vehicles indoors.
Morale, Welfare, and Recreation (MWR) Facilities
Alaska Defense creates MWR facilities to accommodate celebrations such as holidays, dining events, sports and entertainment activities, group service projects, and even library access to provide leisure and support services to troops while deployed.
Military Shelter Systems to Support Any Operation
No other fabric building provider comes close to matching the number of shelter systems or the experience as Alaska Defense. When it comes to military shelters, there is a reason why the U.S. Armed Forces, Allied Forces, and militaries and governments of other countries continue to choose Alaska Defense. To learn more or discuss using Alaska Defense for your military operation, contact us by email or using our online contact form.