A Few Applications of Our Structures
December 12, 2014

Category:

Alaska Defense Applications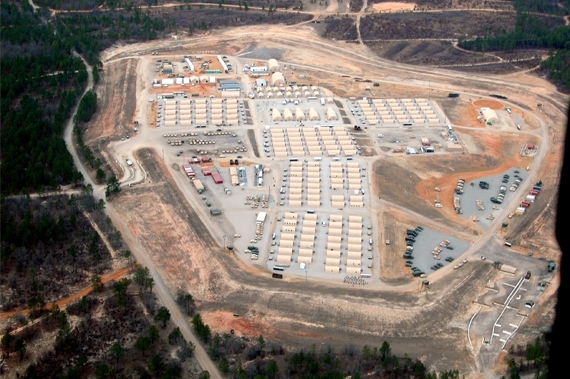 Government branches, industrial companies, and commercial businesses trust Alaska Defense for one reason: we're worth the money. What can our buildings do and what uses are they serving our clients? Here are a few examples of the potential applications of our structures:
Polar Camps and Buildings
Built for extreme cold weather, our fabric buildings and camp systems can withstand the most bone-chilling cold. Our structures have withstood arctic forces on the North Slope of Alaska, far above the Arctic Circle, and deep in Antarctica for over 40 years. Our standard fabric is rated to -60 degrees Fahrenheit and our polar structures are also designed to use our patented insulation and flooring systems.
Engineered with aircraft in mind, our hangers can withstand severe wind conditions and heavy snow loads, making them ideal for covering and protecting air equipment anywhere in the world. Airports, aviation architects, and logistics companies have trusted our hanger solutions for their aircraft storage and protection needs.
Oil and Gas Applications
We provide specialized, elite-level conveyor and pipeline enclosures to protect materials from extreme elements all around the world. We've been working with private mining and oil development firms for over 38 years to provide fabric structures that stand against the toughest elements and protect valuable assets.
Mining
Do you have a Caterpillar or Komatsu haul truck that needs a maintenance shop or wash bay? Look no further then Alaska Defense as we got you covered with an Alaska Structure. For over 38 years mining companies have been using our fabric structures for virtually every type of building used on a mine site from concentrators to man camps.
Emergency Housing Systems
Armed conflict, natural disasters, and building destruction displaces millions of people each year. Alaska Defense is there to provide high-quality, long-lasting structures that serve as safe and clean living environments for affected people.
Recreational Buildings
The show must go on – whether it's a covered practice facility or a performance arts structure, we can provide high-quality buildings for pools, soccer fields, dance studios, or even movie theaters! The possibilities are endless and our buildings won't let you down.
Contact Alaska Defense at +1-888-370-1800 to discuss your building needs and find out why we're the number one fabric building company in the world.